We know that having a great piece of equipment helps your business thrive. With proper maintenance and care, your equipment is well positioned for successful years to come. But what about your equipment operators? Are they trained for success and safety? Safe operation of the equipment is incredibly important for each user to fully understand and demonstrate. Here, we would like to remind you to cover your safety basics in order to reap many years of safe and prosperous equipment use. Those Safety Basics include:
1. Get to Know Your Machine & Manuals
One of the easiest and most accessible starting points when learning equipment safety is to read and understand the owner's and operator's manuals. Whether operating a tiller or a trencher, it's critical to understand how the machine operates and which movements to anticipate. All pertinent safety information can be found in the machine manuals and should always be the first point of reference.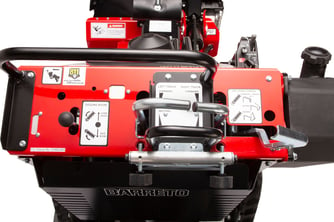 Take a trencher for example - trenchers are engineered to travel in reverse, a movement that might seem surprising to the novice user who expects the forward movement commonly seen in other machines like tillers. Getting to know your machine means that the user has read through and assessed the manuals, as well as inspected the machine, observed its operation, and located safety features.
2. Use Common Sense
We all know the age-old phrase about common sense - it goes something like, "Common sense is not so common." As much as we joke about it, common sense is an essential ingredient to safety and success. Before operating machinery, it's important to pause and assess the situation in front of you. Ask yourself: Is the machine safely positioned on the ground or trailer? Which direction will it travel? Where are the moving components that could hurt me? Have I followed recommended safety procedures before operating or performing maintenance? Rental equipment is heavy and no-nonsense, and all machines involve moving parts that carry safety consequences. Think before you act, and always be aware of your surroundings.
3. Operation
Machines should be operated only according to their intended purpose and in an area free of distractions or clutter. The intended use of the machine will help you determine if the machine is the right one for the job. For example, the 3107C Chipper is intended to chip wood up to 7" in diameter. It would be unsafe to operate a 3107C Chipper on materials larger than that, or on non-arboreous material.
Anticipate the machine's movements to determine the necessary perimeter that will keep observers safe, and be sure to wear protective equipment like safety glasses, gloves, ear protection, and boots. Give yourself plenty of time and space to maneuver the machine safely in its environment and around others. Only operate outdoors with proper ventilation and space around yourself and the machine. If operating a machine near a road or busy area, operators should wear reflective clothing and ensure that bystanders are kept at a safe distance.
4. Machine Maintenance
Safe operation of machines includes properly maintaining the machine. Frequently assess the use of the machine and any wear parts that may need replacing. Check that necessary components are being greased at the recommended intervals, and note the hours of use on the machine. Before performing maintenance to a machine, be sure to follow the lockout procedures that render the machine inoperable. Each owner's manual will have these important instructions that outline the steps to take before, during, and after maintenance.
5. Safety Resources
Not only do Barreto machines come fitted with physical operator's manuals attached, but they are equipped with decals that notate the safety and lubrication features. Should you need a fresh copy of the operator's manuals, you can find those available for download on our website here.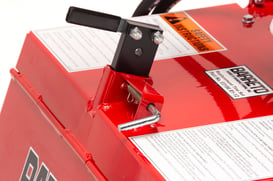 Beyond physical manuals and visual decals, we are also excited to offer new Safety & Instructional videos. For links to our current safety videos, subscribe to our Barreto Manufacturing, Inc YouTube channel and view our safety content on:
There are many resources available to help you enjoy the safe use of your machine. Thoroughly check out the manuals and familiarize yourself with the machine. Then, enjoy the easy operation of these incredible products!
For specific questions or tech support, you can always reach out to Barreto Manufacturing, Inc by calling 1-800-525-7348.