Happy National Manufacturing Day! It's 2022, and as our country grows and technology increases, the manufacturing industry is as important as ever. This day exists to inspire and promote careers in American manufacturing and bring awareness to the hardworking people who are the backbone of this skilled work.
Here at Barreto Manufacturing we are proud to create American made, industrial equipment for the landscaping and rental markets. Rooted in innovation out of a garage 38 years ago, we are committed to continuing to grow in order to better serve our customers, our employees, and our world. We design and build a selection of trenchers, tillers, wood chippers, stump grinders, and mini skid steers. Here's a peek into the top 7 processes that make us tick:
Laser Cutting

Metal Bending

CNC Machining

Welding

Powder Coating

Assembly

Crating & Shipping

Laser Cutting
It all starts with a humble sheet of raw steel. Our state-of-the-art laser cutters are operated by our skilled technicians who program and monitor the machine's actions. Before cutting, each sheet is carefully "nested", or designed, on a CAD system to fit the maximum number of cutouts per sheet and maximize usable material. Essential equipment components from large to small are cut according to design specifications, and later separated from the steel skeletons to be sorted and sent off for further production.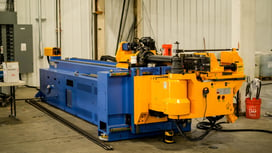 Metal Bending
Two major machine types assist us with bending the cut metal: press brakes and tubing benders. Press brakes bend flat pieces of metal with careful precision at varying angles. Tubing benders are exactly as they sound - they bend tubes of steel into handlebars, equipment bodies, and more. Each machine is computerized and requires special programming knowledge to operate safely and set up each part.
CNC Machining
"Computer Numerical Control," also known as CNC, is a sophisticated and precise machining process that automates the milling of metal into components like spindles and valve spools. CNC unit operation requires special training, and operators must be constantly attentive to the processes while the machine is in motion.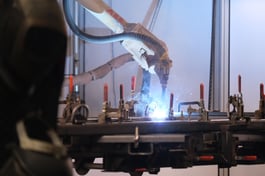 Welding
Metal parts are welded using both manual and automated processes. We have talented welders who hand-weld the majority of our equipment, and we also have various types of automated robot welders. The robot welders are incredibly efficient systems that are pre-programmed to apply precise welds while under careful supervision.

Powder Coating
Once a part is complete and ready for painting, it goes through one of our state-of-the-art powder coat systems. The part is hung, rinsed, dried, painted, and baked until the powder coat hardens for utmost durability in the finishing process. This complex unit requires many hands to load, operate, and unload the completed parts, and it is an essential part of our manufacturing processes.

Assembly
Assembly is one process that is 100% manually performed. Like a giant puzzle, our assembly team must take all the completed parts that make up a machine and build it into a finished product. Working together between departments, assembly teams carefully shuffle, organize, and assemble all components of our equipment. These teams perform final checks on the equipment to ensure it is ready for shipping.
Crating and Shipping
Last but not least, the final step to the manufacturing process is crating and shipping. It's essential that each machine is properly packaged for transportation to the customer, and each one is carefully secured in a custom wooden crate. Wooden boards are measured, cut, and stapled together to transportation specifications, and those that ship internationally must adhere to unique requirements.
It takes countless moving parts and an enormous effort across several locations to manufacture our robust equipment. Not only is there an incredible number of parts to monitor and equipment to maintain, but the hands-on attention to detail that each piece receives is one reason we are confident in our finished products.
American manufacturing creates jobs, ensures high quality, and creates a better future for our country and our world. You can check out Manufacturing Day resources for ways to share about the industry, and checkout these tags on social media: #barretomanufacturing #MFGDay22 #CreatorsWanted #NationalManufacturingDay