The third installment in our Mini Skid FAQ series focuses on attachments for spring landscaping and outdoor projects. Now that the weather has turned warmer, many of us are working to improve our home and garden spaces.
Five attachments for your spring projects:
Attachments can be non-hydraulic, or hydraulically powered with "high" or "low" flow auxiliary connections. High-flow attachments such as mowers, trenchers and augers require a high volume of hydraulic fluid moving through the motor to power the tool constantly. Low-flow attachments such as four-way buckets and grapples or other attachments with an auxiliary cylinder require low-volume flow. The Barreto 825TKL comes equipped standard with both low and high flow, which sets it apart from other manufacturers who equip skid steers with either low or high upon placing an order.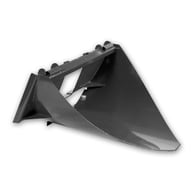 Tree Shovel
Need to plant a tree or shrub? Tree shovels, or power shovels as they are also known, are essentially a large scoop that you can attach to your mini skid using the universal base plate. These are useful for digging out sizable holes for planting, or you can use them to transplant existing trees or shrubs and remove large rocks. Most tree experts will tell you that you need to dig a hole at least twice as wide and twice as deep as the tree you're trying to transplant. The power shovel makes that possible without the blisters and without the backache, and it doesn't use hydraulic connections.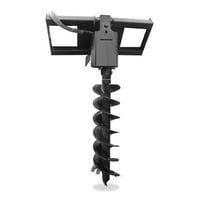 Auger
Utilize those hydraulics! Drilling holes for installing fence posts couldn't be easier. Auger attachments are high-flow, and enable quick drilling for various applications as they come in various sizes. Augers can bore holes for planting trees as well. Pro-tip: If using an auger to plant trees, check the interior of the hole before transplanting. New tree roots might struggle to break through a highly packed, smooth interior wall surface - especially in clay-rich soil. So, take a shovel to rough up the edges to allow new root growth.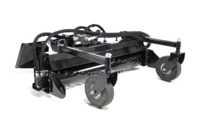 Power Rake/Soil Conditioner
Refinish and refine all types of soil surfaces with this attachment. Whether preparing soil for planting or starting over on an old lawn, blend and smooth surfaces with a Power Rake. Gravel driveways can even be resurfaced with this method.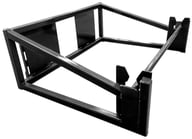 Sod Roller
This tool is pretty straightforward - it is a spool attachment made to transport and spread sod. It's the prime time of year for spreading sod - the weather has yet to heat up to extremes, and the added moisture of spring helps the sod root out well.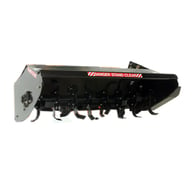 Mini Tillers
Tilling for gardens can be accomplished easily with tilling attachments. Turn up soil to remove weeds and prepare it for planting in swathes wider than most traditional walk-behind tillers.
Mini skid steer loaders are a contractor's favorite tool for many reasons. Their compact size and versatility lend well to many projects at home and beyond. They are user friendly fleet-additions, and with many attachments to choose from they can handle most spring jobs.