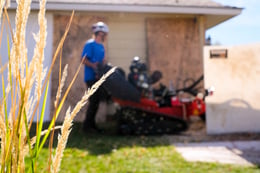 Happy first day of fall! It's official, we no longer need to feel guilty for busting out the pumpkins and the plaid flannels in anticipation of the season. The nip in the air signals us to start thinking about fall yard maintenance, and which projects you can tackle yourself or leave to the pros. Consider these simple tasks that can be accomplished with the right tools and a Saturday afternoon:
Trim Trees
Depending on geographical location, winter brings wind, snow, and ice that can damage trees. Save yourself a homeowners insurance claim by preemptively trimming low hanging or brittle branches that may come down in inclement weather. This Fall Landscaping Checklist also recommends checking for branches overhanging fences, cars, or other structures you wouldn't want damaged.
It's prudent to trim trees for safety as well as the health of the tree. Depending on the species and size of tree, the Best Time of Year to Trim, Prune Trees is typically very late fall and winter while the tree is dormant. A certified arborist or tree care professional is an excellent resource for tree health, and can optimize your tree's growth journey through the seasons.
Tree trimmings can be mulched and set aside for further use.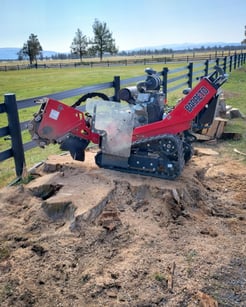 Clear Space
The close of the season is a great time to reenvision the design of your landscaping. Perhaps it's time to clear out that old, diseased tree in the middle of your lawn and replace it with fresh grass. For this project, a stump grinder can come in handy. Stump grinding is easy on the surrounding lawn, takes the stump down below ground level, and is the quickest solution for removal. You can rent a stump grinder from a local rental shop if you're looking for a DIY approach, or you can hire a tree removal specialist to take care of things for you.
Removing stumps and replanting trees in new locations can change the feel and aesthetic of your landscaping. Here's an outline of the benefits and Why It's Great to Plant Trees in the Fall if you're considering a landscape refresh.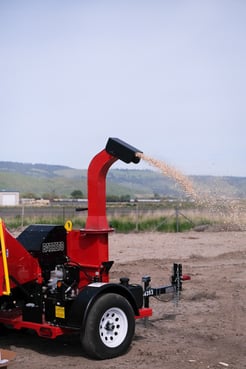 Mulch for Success
Remember those tree branches you just trimmed up? Send them through a wood chipper and use the mulch for a little natural insulation around landscaping beds and trees. Mulch will protect the roots and bases of plants from freezing too hard throughout winter - just make sure to leave enough room around the base so that the mulch doesn't create rot or harbor pests.
Prepare for Winter Storage
You don't have to put all the tools away just yet, but know that the coming weeks will bring cooler and possibly freezing temperatures. This means there will be preparation needed to clean and store items. The perks of renting equipment is that it's on-demand, and you can return it to the rental store the same day you use it with no ownership or storage requirements. Winterizing equipment keeps everything in tip-top shape and ready to hit the ground running come spring.
Fall landscaping can be a joyful practice that welcomes the turn of the seasons - just grab the right tools and enjoy the process!